Add Comment |
Related Links |
TrackBack

Related Content
10-Years of GRM for $99.99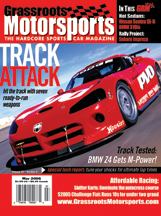 Ever since I started this publication more than 20 years ago, I've had people ask me if I would offer lifetime subscriptions. Because of the accounting standards, the IRS and postal regulations, I've resisted. But things have changed.
You may have noticed that we're growing - A LOT. My marketing director, Bill MacDonald, and I recently sat down and ran some budget figures. We realized that one of our largest costs is printing and mailing renewal notices.
So we figured out a way to offer an extended subscription term, cut costs and SAVE YOU MONEY.
GET 10 YEARS OF GRM for only $99.99
Order now and get 80 issues for only $99.99. That's half off the regular subscription price and 75% off the newsstand price.
Grassroots Motorsports magazine is your source for the best in hands-on motorsports excitement. Each issue of GRM is packed with hardcore project cars, technical info, news, driving tips, car and scene profiles and events coverage. From autocross and track days to rally and road racing, we get our hands dirty and burn our own rubber to bring you close to the action. And unlike some other heavily chromed publications, we keep our eyes on the budget and encourage low-buck engineering over how-many-zeros-will-fit-on-a-check parts craziness; just ask our $2006 Challenge competitors!
This is your chance to eliminate the renewal notices and make sure you never miss any of the action.
Click Here To Order Your 10-Year Subscription NOW!
Or call me personally at 800-520-8292. There's never been a better deal . . . you don't want to miss it!
Sincerely,
--Tim Suddard
Publisher
Grassroots Motorsports magazine
www.GrassrootsMotorsports.com
P.S. This will just add on to your existing subscription and you won't lose a single issue. Don't hesitate - GET YOURS NOW AND SAVE!
iDealSaving
Wed, 10 May 2006 12:58:08 -0700
Add Comment |
Related Links |
TrackBack

Related Content
Did your message disappear? Read the Forums FAQ.
Spam Control | * indicates required field
TrackBack only accepted from WebSite-X Suite web sites. Do not submit TrackBacks from other sites.
Send Ping | TrackBack URL | Spam Control
No TrackBacks yet. TrackBack can be used to link this thread to your weblog, or link your weblog to this thread. In addition, TrackBack can be used as a form of remote commenting. Rather than posting the comment directly on this thread, you can posts it on your own weblog. Then have your weblog sends a TrackBack ping to the TrackBack URL, so that your post would show up here.
Messages, files, and images copyright by respective owners.